Memories of Alan Chadwick by Peter Jorris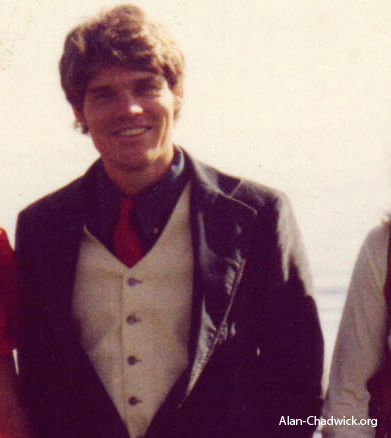 Peter Jorris joined the Garden Project in the early days at Santa Cruz. He had been a student in the first year of the university, but as happened to others, he found more meaning in the work of the garden under Alan Chadwick than in his academic studies. Later, when Alan left Santa Cruz, Peter accompanied him to the Zen Center property at Green Gulch as a staff member. Peter worked at Green Gulch from the very beginning until the bitter end, only leaving for Saratoga at Alan's request when all was finished. When the new project at Covelo got going, Peter also joined Alan there for a brief time in the early days.
Peter Jorris, late 1970's
How it was that Alan Chadwick finally left Green Gulch. The role of Roshi Richard Baker. Peter Jorris was the last Chadwick apprentice remaining there at the Zen Center. Alan then asked him to relocate to Saratoga to learn the dairy business from Mr. Peake, who operated one of the last raw milk dairies in California. The idea was that the project would someday want its own dairy, and thus Peter would be competent to manage it.
Written in 2003, this account describes part of the episode when Alan Chadwick was stopped by a policeman for speeding. The officer drew his gun on Alan, who promptly disarmed him, tossing the weapon into the bushes, and then calmly walked off.
Photo: Peter Jorris (left) and Jasper Rose (right) at UCSC in the late 1960's
A video interview with Peter at San Clemente, California, in April 2014. Here Peter describes the circumstances leading to his first encounter with Alan in the garden at Santa Cruz. He also relates what is was about Chadwick that induced him to become an apprentice during the summer of 1968. (11:04)
The second part of a video recording depicting Peter's account of working in the garden at UCSC during the summer of 1968 and what he learned about Alan Chadwick's life and philosophy. (13:18)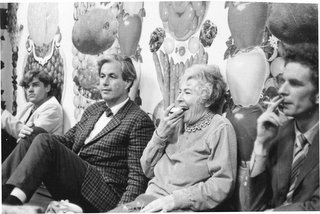 Peter Jorris (left), Art Professor (later Cowell College Provost) Jasper Rose (second from left), Art Professor Mary Holmes (second from right), and Philip Thompson (right) at the University of California at Santa Cruz, ca. 1968.