Jodi Greenberg Frediani Remembers Alan Chadwick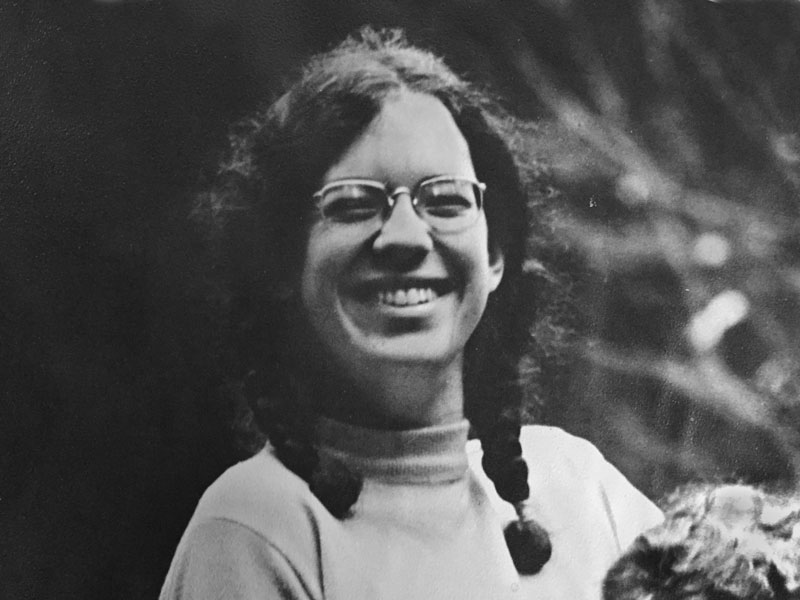 Jodi Frediani shortly after completing her apprenticeship with Alan Chadwick in Santa Cruz
Jodi Greenberg arrived in Santa Cruz as a student at UCSC in the year 1966, but before long dropped out of school to work full-time in the garden with Alan Chadwick. Alan affectionately called her "Blackie" because of her raven-black hair, which, when not tied up in tight braids, was exuberant. Some of her co-apprentices at the time were Jim Nelson, Peter Jorris, "Goldilocks", and Beth Benjamin. Not long after her experience in the garden at Santa Cruz, Jodi married John Frediani and they soon moved to England to study Biodynamics at Emerson College in Forrest Row.
A Brief Introduction by Jodi
In 1967 I was a young UCSC biology major, struggling through organic chemistry and enjoying philosophy class with Paul Lee. Then Dr. Lee brought master gardener, Alan Chadwick to town. Little did I know how radically that would change my life! I remember listening to an early lecture Alan gave where he described his vision for the University, planting fruit trees and flowers along the campus access roads, creating multi-hued, perfumed herbaceous beds that would ultimately flesh out his exotic hillside garden below Crown College, free fruits and vegetables for all, and I was hooked. At one point I even did an independent study with Jasper Rose on the "History of the Potato" while working in Alan's garden. But it wasn't long before I dropped out of school to work in the garden full time.
Alan Chadwick was not just a mad English horticulturalist/Shakespearean actor, he was one of my most important mentors. He'd appear to me in dreams. Besides being a great gardener with vision, he was a person with a raging temper who managed to do beautiful and wondrous things in the world. If a wheelbarrow were left out of place, Alan heaved it off into the poison oak. He once tried to shut an aluminum-frame window in the pre-fab garden chalet, but it stuck and would not budge. So he took a hatchet and tried to force the poor window to obey. Need-less-to-say, those were not counted among his wondrous accomplishments.
But I, too, had a temper and was always being chastised for it. I hated it and myself, so Alan was a personal guide along a torturous route to adulthood, self-love and service to the world. He gave me the nickname of "Blackie" which stood for Black Witch. I'm not quite sure why, but it was an honor to receive a nickname from Alan regardless of its implications. He was later dubbed a "Gardener of Souls". "He taught, prodded, cajoled, and berated his many students until they became competent, authentic, and creative human beings." (http://www.alan-chadwick.org)
I, and my fellow apprentices, slept in the woods beyond the last flowerbeds, just below Merrill College. It was quite magical and liberating. We'd sleep among the madrones, oaks, and woodland elves each seemingly magical night. Then we'd tip toe out into the dawn mists and golden sunshine to water and pick flowers before a communal breakfast on the deck of the garden chalet each morning. There Alan would regal us with tales of traveling through South Africa as a member of the Queen's Shakespeare troupe. He'd share stories of his mother's gatherings, which as a child he attended. These included members of the Theosophical Society, including Austrian spiritual philosopher and developer of biodynamic agriculture, Rudolph Steiner. Chadwick was known for his French Intensive Horticultural methods, but Steiner's influence was not far behind.
I felt blessed to be able to be a part of that glorious community, and I later became an organic gardener and farmer myself. In 1971 I traveled to England with my husband and young daughter to study biodynamic agriculture at Emerson College in Forest Row. Those seeds, too, were planted in Alan's Garden.
Alan taught me to love the beauty of flowers, which I had thought of as being extraneous, lacking in pragmatism. I spent hours dead-heading carnations so the one chosen bud would bloom on a tall and elegant stem. That was a task requiring meditative concentration to ensure that each superfluous bud was dispatched silently, a sign that the correct technique had been mastered. And he taught us about the power and importance of observation, about the essential tool of imagination, and the need to develop the ability to bring the imagination to bear in creating the world we wished to see. Then there was the seemingly mundane task of delivering dahlia tubers to their winter dormant resting place within the redwood-grove cathedral at the far end of the garden. That became a sacred act in itself.
For twenty years after, my husband, children and the apprentices who lived and worked on our little biodynamic farm raised a stellar, award winning herd of Saanen dairy goats. We also kept pigs and sheep, calves and chickens. We had dread-locked Hungarian livestock guard dogs to keep our charges safe from predators, both wild and domestic. We grew fruit and vegetables for our family and flowers and herbs for the joy they brought us all. We sold organically raised milk and meat, as well as dried flower bouquets and wreaths from our garden. We shared our livestock husbandry knowledge with the apprentices at the UCSC Farm, an offshoot of Alan's Garden.
Today, my vegetable gardens have fallen by the wayside, but my roses and nearly 50 year old lavender plants, sown from seed, continue to bring me great joy through their vibrant color, sustained beauty, rich, sweet scent and nourishment to my soul, as well as provide sustenance to bees and other flying insects. Deep appreciation of natural harmony and reverence for all life were among the many gifts Alan gave to a fortunate and blessed generation of wide-eyed budding gardeners. It was a splendid and heady time!
Jodi Frediani
On July 27, 2017, the date of Alan Chadwick's birthday, Jodi spoke with Greg Haynes and Peter Jorris at her home in Bonny Doon, California, early in the day prior to a 50-year dinner reunion of Chadwick's Santa Cruz garden apprentices. She described her experiences working with Alan at the UCSC garden, how he helped her plan the layout of her own farm, and about his positive influence on the subsequent direction her life.
Jodi Frediani Speaks about Alan Chadwick, Part 1
Jodi Frediani Speaks about Alan Chadwick, Part 2
Jodi Frediani Speaks about Alan Chadwick, Part 3