Tom Benthin Remembers Alan Chadwick
Tom Benthin became entranced with the Student Garden and captivated by Alan Chadwick shortly after entering UCSC in the fall of 1971, Alan's last academic year at Santa Cruz. During the Winter Quarter, Tom, along with several other students, arranged to take an independent study class with Alan and he was at the Garden after the schism that led to Alan's departure from Santa Cruz. The following year Tom took a leave of absence from the University to apprentice himself to Alan. That took some work – during that time Alan started gardens in Saratoga and Green Gulch before settling in Covelo with the support of benefactor Richard Wilson. Finally Tom and his girlfriend Cindy joined the Covelo Garden Project in July of 1973. They studied as apprentices until June the following year. Over the course of that first, very wet, winter, the original Covelo garden on the edge of town flooded. In the spring the decision was made to move the garden to its new site, near the edge of Round Valley.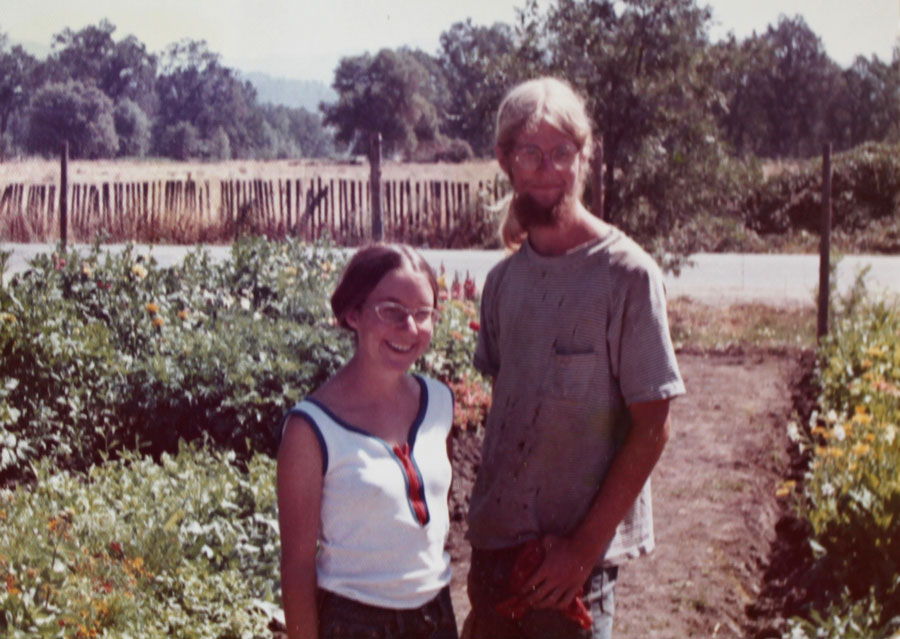 Tom Benthin and Cindy Jamieson at the Covelo Garden in 1973
In response to the "mime and deportment" classes Alan taught during that first year, Tom embarked on studying ballet after returning to the Bay Area. He studied dance for the rest of the decade, then transitioned to working in restaurants with chefs Jeremiah Tower and, later, Joyce Goldstein. In the mid-90s Tom changed careers again, beginning a practice in graphic facilitation which he continues today. In 2012, Tom and his family moved to Glen Ellen, California, where he works whenever possible on the garden and beginning orchard. There's always more to do than there is time, but as Alan used to say, "No mini-mini!", by which he meant never to do anything on too small a scale.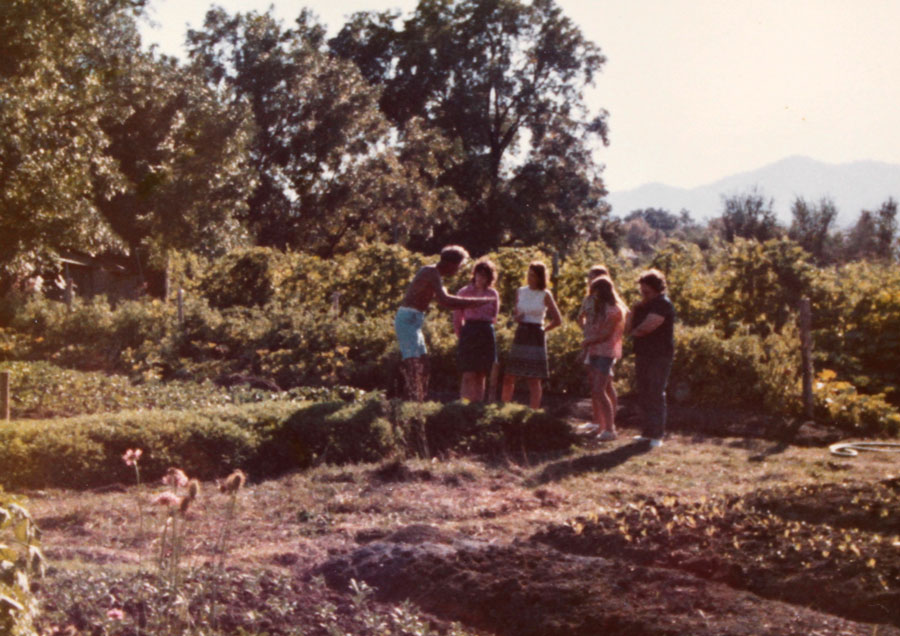 Alan Chadwick greets visitors at the Covelo garden
On October 1, 2017, Tom spoke with Greg Haynes at his home in Glen Ellen, California, about his experiences working with Alan Chadwick. In this four-part interview he recounts how he met Alan during the period that he was a student at UCSC, how he then did an independent study course for credit at the garden, and finally how he took a leave of absence from the university and became a Chadwick apprentice at the Covelo garden project. His astute observations about Chadwick's contributions merit close attention to the interview.
Part 1 of Tom Benthin's interview about his experiences with Alan Chadwick
Part 2 of Tom Benthin's interview about his experiences with Alan Chadwick
Part 3 of Tom Benthin's interview about his experiences with Alan Chadwick
Part 4 of Tom Benthin's interview about his experiences with Alan Chadwick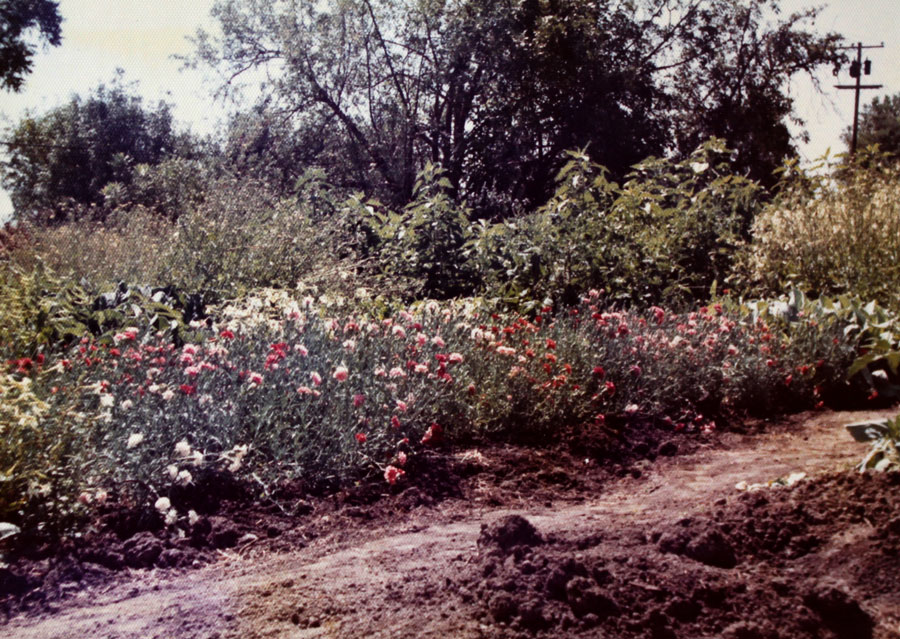 Carnations in a nursery bed at the Covelo garden project of Alan Chadwick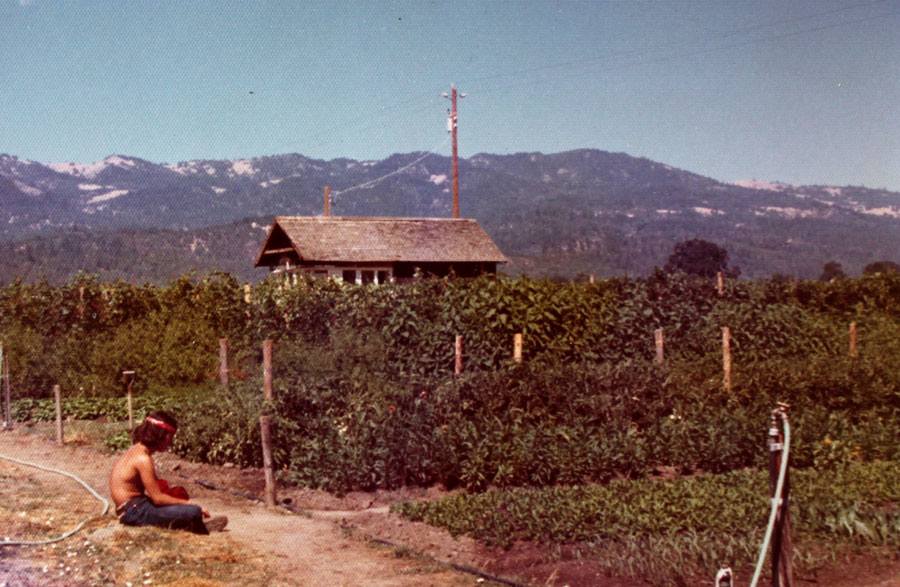 Greg Jamieson rests near the garden beds during a visit he made to Covelo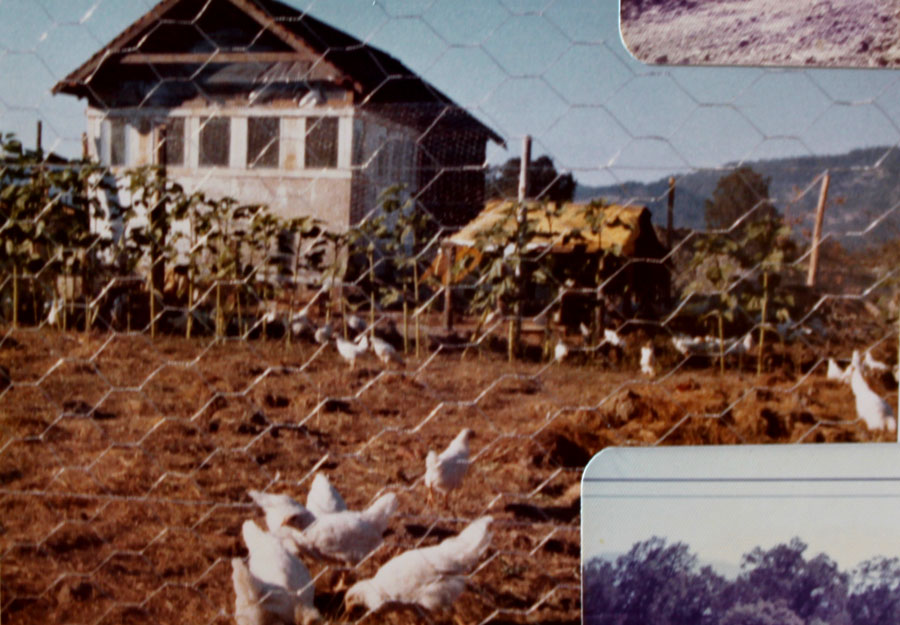 Free range hens at the Covelo garden of Alan Chadwick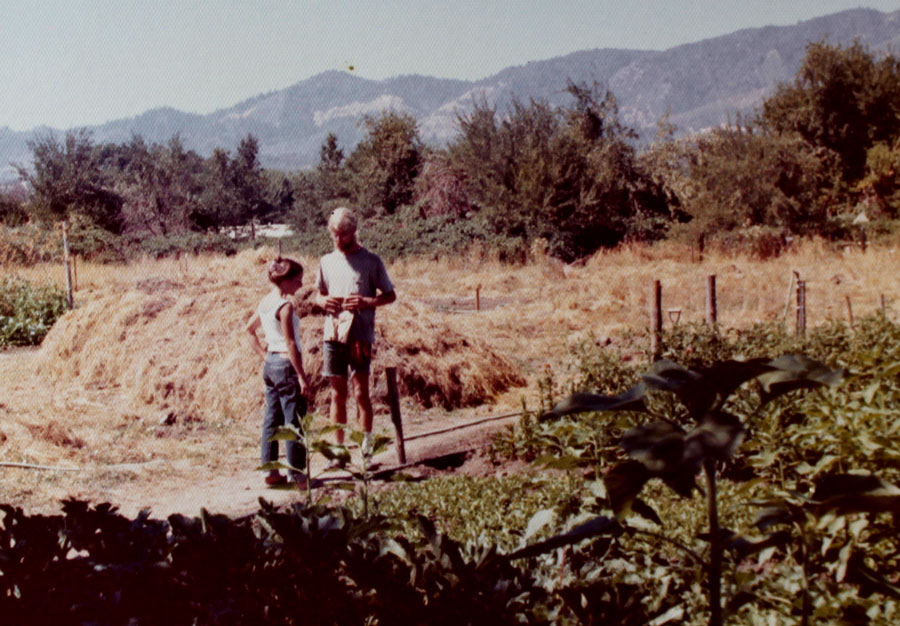 Tom and Cindy at Covelo
Tom Benthin was one of the very few apprentices that took careful notes of Chadwick's teachings. In August of 2017, Tom shared the Garden Journal that he kept during the spring and summer of 1974 with us here at Alan-Chadwick.org. It is an invaluable resource in that it contains very detailed information about the propagation and planting techniques used at Covelo.
All photos on this page used by permission, courtesy Tom Benthin