Ronald Reagan Visits Alan Chadwick in Covelo, 1974
On August 22, 1974, Governor Ronald Reagan paid a visit to Covelo. He had taken a major role in the fate of the controversial Dos Rios Dam project, which would have flooded Round Valley and the town of Covelo. Richard Wilson had led the battle against the Army Corps of Engineers and their plans to build the dam and send the Eel River water south to Los Angeles. Reagan had sided with the conservationists, killing the water project, and so he wanted to see the valley first hand before he left the governorship. After lunch at Richard's house, Ronald Reagan and Richard Wilson dropped by the project to meet with Alan Chadwick and have a look around the garden. Reagan was impressed both with what he saw of the garden and with the hard-working apprentices that he met there.
We reproduce here several photographs of Reagan, Wilson, and Chadwick. Below the photos on this page, we also include a brief extract from a much longer interview with Richard Wilson and the Regional Oral History Office of the Bancroft Library at UC Berkeley. In this extract, Wilson describes Reagan's visit to Covelo and the meetiing with Alan Chadwick. The full text of Wilson's interview can be found here.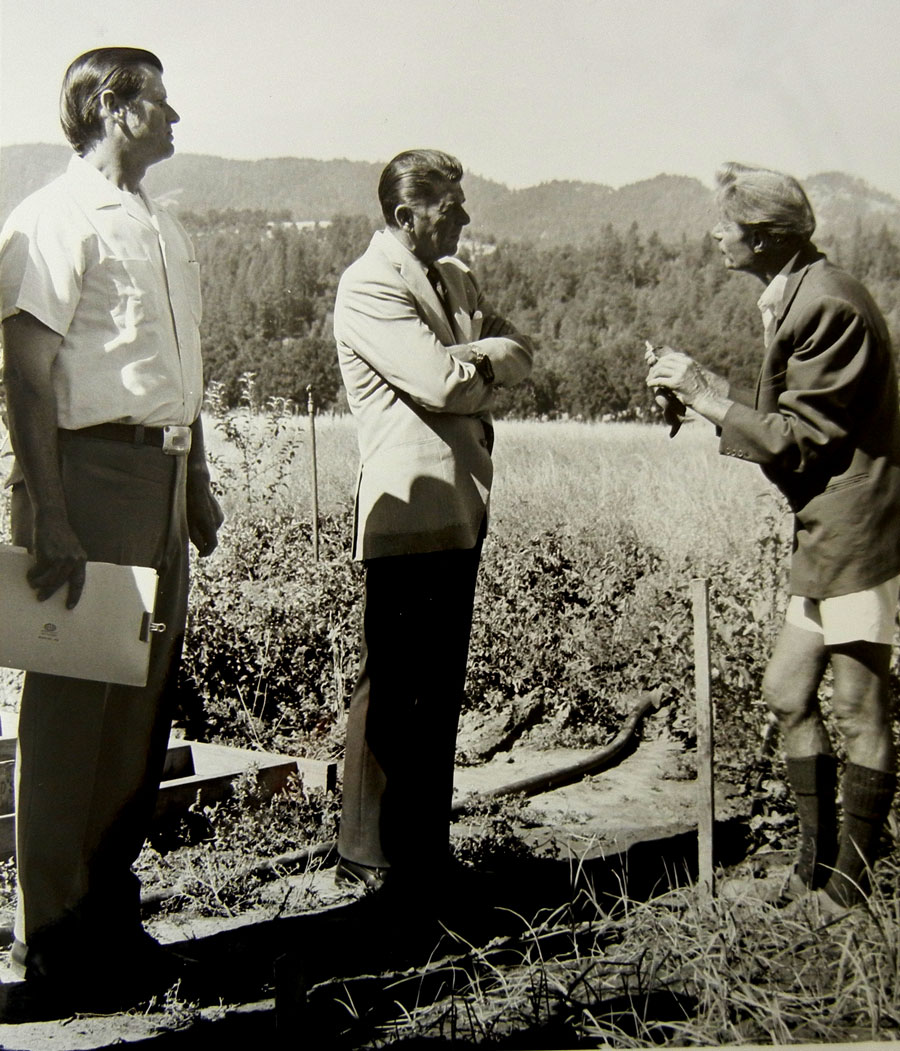 Alan Chadwick explains a matter to Governor Ronald Reagan under the watchful eye of Richard Wilson 1974. (Photo Lewis Butler) , Published by permission, courtesy of Richard Wilson.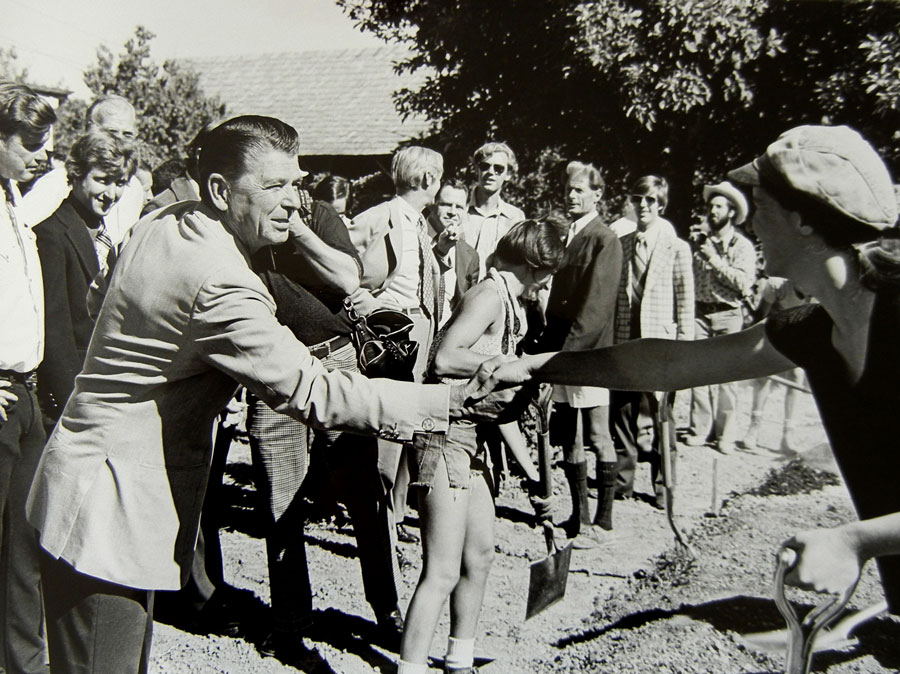 Governor Ronald Reagan shakes hands with a horticultural apprentice in the garden at Covelo. Alan Chadwick in background,1974. (Photo Lewis Butler) Published by permission, courtesy of Richard Wilson.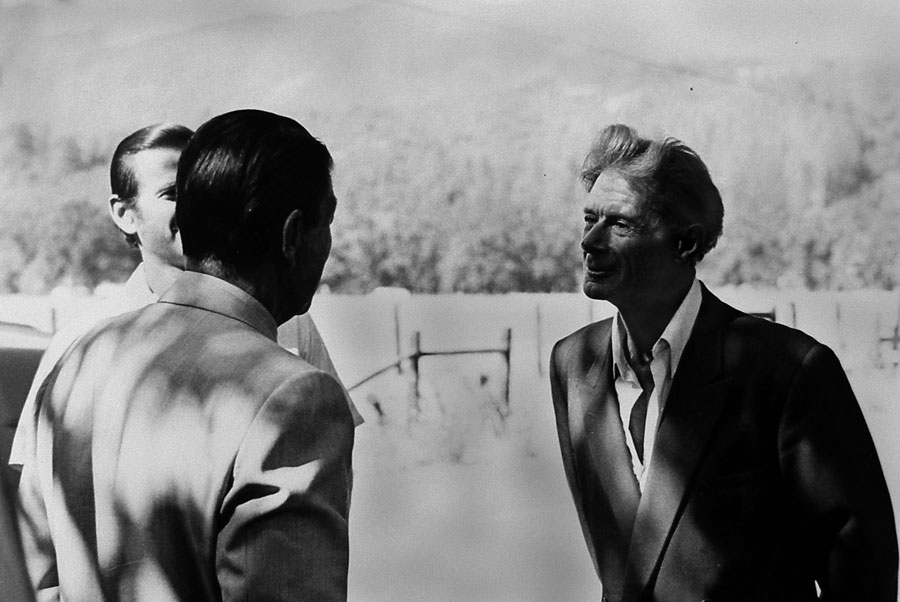 Ronald Reagan, Alan Chadwick, and Richard Wilson in conversation at Covelo, California, 1974. (Photo Lewis Butler) Published by permission, courtesy of Richard Wilson.
Richard Wilson's comments about Ronald Reagan's visit to Covelo and his meeting with Alan Chadwick
(From Wilson's interview with the Regional Oral History Office of the Bancroft Library at UC Berkeley: Interview with Ann Lage)
Wilson: This is September the 2nd, Sunday, at Henthorne Lake, the year of our Lord,
2001, continuing on our discussion of the Covelo Garden Project and Ronald
Reagan's visit.

I believe in August of 1974, Reagan was coming to the end of his term, and
wanted to do a north-state kind of a fly-through to visit various places that had
been of interest to him. Livermore, obviously, was key in this, in setting it all
up. He came for the day. It was really a day. He came and we had lunch at my
house.

Lage: In the valley?

Wilson: Yes. Then we went over to the garden, and we toured the garden, and he
visited with the students and with Chadwick. Then he went to the Round
Valley Inn. The big living area, the big room there, was named the Reagan
Room because of the visit. He visited with all the people, and they'd all get up
to shake his hand and have their picture taken. It was really kind of a fun day
for a little town like Covelo to have a sitting governor come in, and be there,
and talk. Reagan's a very congenial type of fellow and can mix with anybody.
It struck me that both of them were actors—Reagan and Chadwick—and were
both putting on an act. Steve Bundy at that time was with me, and Steve
Bundy said, "Gee, it's a little bit terrifying that these are the people that are
leading us in the world." [laughter]

Lage: He was referring to the whole entourage?

Wilson: Well, the Reagan—yes.

Lage: How did he relate to the students?

Wilson: Fine. Well, it was very interesting. It's a good question because what he said
was, he said, "These students are out here"—he noticed them working and
how hard they worked—and he said, "The students that I had to interface with
at Berkeley were not doing this. They were a very different type of creature."
He sort of said, "This is so nice to see young people doing this kind of work
and not protesting and raising Cain on the campus." He made that comment
about the visit and the students at the garden. Ellen Sugawara was one of the
gals. Ellen now lives in Hawaii with Jack. They're on an island off Molokai, I
think. Ellen—a small Oriental girl—she did some of the talking. She was very
good. She was very precise, and very articulate, and had a shovel and was
pounding some soil. It was really a—gosh, it was kind of fun to see it all.

Lage: Did Chadwick behave himself?

Wilson: Chadwick was on his very best behavior and dressed up in his—I don't know
whether he had long pants or short pants that day. He had blue short pants he
used to wear all the time. I think he did. When you go through Buck Mountain
we've got that picture and I'll show it to you, the two of them.